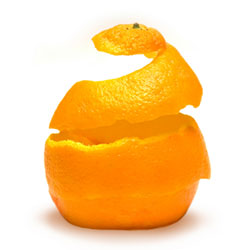 She did something.  Walking and eating on the move as busy people do. She was peeling the skin off an orange with her hands.  A small amount of orange peel fell on the ground.  She bent down, picked it up, put it in her pocket and walked on.  That speaks volumes.
She didn't look around to see if anyone else saw; she just did it.  Based on what's important to her, it was the right thing to do, the only thing to do, the natural thing to do.  No approval from others, just approval from herself. 
Can you remember when you last had an orange peel moment?  Maybe you're a self employed freelancer and you questioned your client instead of automatically doing what they asked you to do.  That's an orange peel moment.  Or maybe you were socialising amongst a group of people and someone said something you were unfamiliar with.  You didn't understand what they were talking about and you could have just nodded and smiled, but instead you said 'What's that?'  That's another one.  Or maybe you made toast for your boyfriend or girlfriend without being asked, for no apparent reason: just because you wanted to.  The orange peel moment.
So what if the orange peel moment didn't happen?  Others would be none the wiser.  But you'd know and that can't be a good feeling, can it?